Support Local Businesses and Organizations with the Pay It Forward Maine Initiative
As Maine business owners and their employees weather this unprecedented pandemic, the Portland Regional Chamber of Commerce is partnering with several organizations in our state to launch a campaign to support our community: Pay It Forward Maine.
Pay It Forward Maine asks individuals, businesses and organizations to continue supporting local businesses and their employees in our new world of closed storefronts and social distancing. This could be your favorite sandwich shop, your local coffee haunt, your beloved caterer, your hotel conference host, your trusted hair salon. It could be your "usual" restaurant or taproom where you know the servers by name. Maybe it's your favorite bookstore, live music venue, museum, or theater. It's also your service providers: Housecleaners, pet sitters, daycares, and of course the medical and emergency personnel who have been on the front lines. 
They have been there for you through thick and thin. Now it's time for us to all come together to return their service and support, however we can. This is a difficult time for us all. Let's collectively help each other to the other side of this crisis!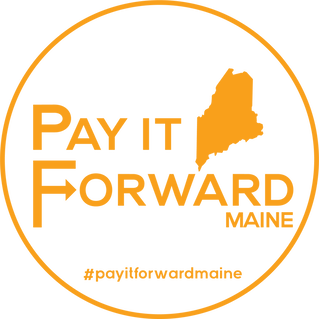 Find out how YOU can get involved by downloading the Pay It Forward toolkit with logos and other marketing materials.
We greatly encourage you to join us as we #PayItForwardMaine by considering the following ways to show your support (including through simply spending your time and effort)*: 
Buy a gift card, gift certificate, class pass, etc. – this may be the simplest and most effective way to continue supporting local businesses throughout this crisis. Think of a business you would have visited that day/week/month and buy a gift card instead!  Keep it for yourself OR give to your favorite local server, bartender, grocery store employee, hairdresser, medical professional, first responder, etc.  
Utilize take-out and curbside to-go services (websites like Portland Food Map are keeping updated lists of restaurants offering these services). 
Purchase merchandise from the business' website – obviously retail locations, but many businesses and organizations in all industries offer merchandise such as clothing, hats, glassware, posters, and more. Buy online and have it shipped to your door! 
See if your service providers offer virtual options: Tax accountants, business coaches, yoga instructors, etc. 
If you can't afford to show monetary support, share the website or social media account of your favorite business or organization and encourage others to support them.
Additional ways you can help: 
Help deliver products to those in need.
Volunteer your time to help feed the hungry. 
Put together packets for school children. 
Provide child-care for those still working (especially those in health care and medical fields) and in need of a helping hand.
Post a video of teaching others about a favorite skill or technique.
And most importantly:
Help us make this into a statewide movement by sharing your posts, photos, and actions with the hashtag #PayItForwardMaine. Tag your family, friends, and followers and challenge them to do the same. The more visibility, the more people will get involved!
*This is by no means an exhaustive list. Please also share YOUR ideas for how to #PayItForwardMaine with the Chamber directly and in your social posts – we are stronger together!
Pay It Forward Maine Business Groups, Organizations and Community Partners