Business Details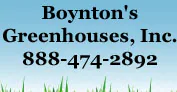 Boynton's Greenhouse
Boynton's Greenhouse has been family owned and operated since 1952. We are proud to be an active part of our community and give back however we can.
Full service florist with an eye for detail and happy to create beautiful, custom arrangements for every order
Large greenhouse open year-round filled with houseplants
Seasonal garden center with hanging baskets, planters, bedding plants of all description, perennials, flowering shrubs, vegetables, and herbs.
Contact Information
144, Madison Avenue, Skowhegan, Somerset County, Maine, 04976, United States