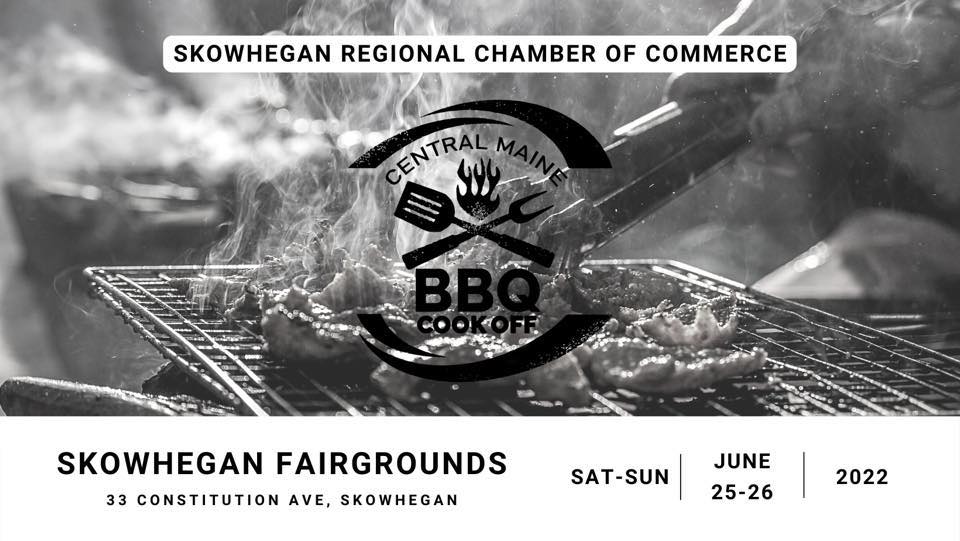 International BBQ coming to Skowhegan, with judges coming from from all across the world. Let's show them how it is done in our region!
LOCATION: Skowhegan State Fairgrounds, 33 Constitution Ave, Skowhegan, Maine
CHECK-IN TIMES: Friday, June 24th, 2pm–8pm, and Saturday, June 25th, 7am–9am.
If you can't set up at these times, please contact us.
CONTACT: Julia Turner (BBQ Event Director) Cell: (207) 474-3621, julia@skowheganregion.com
A brief outline of the weekend:
Friday:
2:00pm: Competitors arrive and set up
6:00pm: Buffet style local restaurant food donations to get a local taste
6:00–9:00pm: Entertainment: Annie & the Rainmakers Band
Saturday:
Family fun activities: Bounce House, Burrow's Farm & Petting Zoo & more!
7:00am–9:00am: Competitors arrive and setup (no driving on the fairgrounds after 9:00am) for BBQ teams
10:00am: KCBS reps to inspect meat and cooking stations for KCBS contest
12:00pm: People's Choice Turn (shredded, sauced, & panned)
12:00pm: First Responders & Veteran Chicken Wing Turn in
12:30pm: First Responders & Veteran Chicken Wing judging
1:00pm–2:00pm: People's Choice judging
1:30pm: KidsQ Cooks Meeting
2:00pm–6:00pm: Live music with River Bottom Funk
2:45pm: Kids Q Judges meeting
3:30pm: Kids Q turn-in
3:00pm–5:00pm: SCA Judging Class
4:00pm: KCBS Cooks meeting
4:30pm: KidsQ, Chicken Wing Challenge & People's Choice awards
4:45pm: SCA Check in for turn in box and # for steak selection
5:00pm: SCA Cooks meeting
5:45pm: KCBS One Meat Judge Meeting
6:30pm: KCBS one Meat turn-ins
7:00pm: SCA Rib Eye turn in
8:00pm: SCA & KCBS One Meat awards
Sunday:
9:45–10:00am: KCBS Judge Check-In
10:00am: KCBS judges meeting
12:00pm: KCBS chicken turn in
12:30pm: KCBS pork ribs turn in
1:00pm: KCBS pork shoulder turn in
1:30pm: KCBS beef brisket turn in
2:00pm: Dessert Turn in
4:00pm: Dessert and KCBS awards
Cookoff Payouts
SCA Steak Cookoff
THE PAYOUTS: 1st $500 / 2nd $300 / 3rd $200 (Trophies for 1st-3rd.)
Kids Q – Gourmet Hotdogs
Trophies and ribbons will be awarded to the teams along with your own grill and utensils.
First Responder's Challenge
Trophies and ribbons will be awarded to the teams.
One Meat Challange: Ribs
Prize money and trophies will be awarded to the teams.
Dessert
Prize money will be awarded for the winner of this category.
KCBS (Kansas City Barbecue Society)
Prizes for KCBS as follows:
Grand Champion: $3,900 + Trophy
Reserve Champion: $1,800 + Trophy
1st Place/Categories: $400 + Trophy
2nd Place/Categories: $300 + Trophy
3rd Place/Categories: $200 + Trophy
4th Place/Categories: $100 + Trophy
5th Place/Categories: $75 + Trophy
Total Purse for KCBS: $10,000